Kansas City Cruises Past Cleveland, 37-21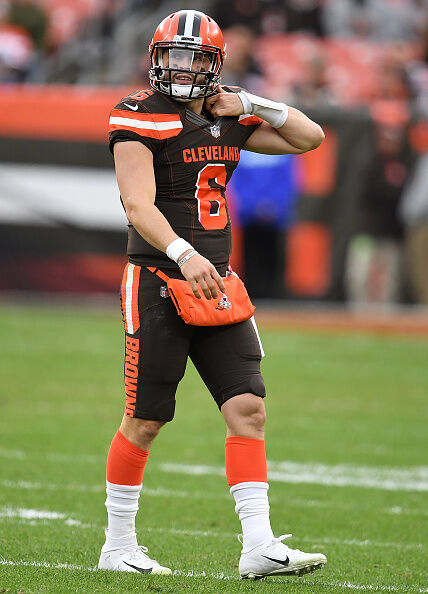 (Photo by Jason Miller/Getty Images)
CLEVELAND -- The Cleveland Browns were once again plagued with injuries this week, and the high powered Kansas City offense took advantage. During the game, the Browns lost Denzel Ward, E.J. Gaines, and Christian Kirksey. Chiefs quarterback Patrick Mahomes had a field day, picking apart the Browns defense for 375 yards passing, and three touchdowns.
Two of the Chiefs biggest stars found themselves coming back home to Cleveland this week. Chiefs tight end Travis Kelce and running back Kareem Hunt were both born and raised in the Cleveland area. Hunt and Kelce found the endzone a combined five times. Every time the Chiefs needed a big play to extend the drive, Mahomes looked Kelce's way. Kelce put up 99 receiving yards on 7 receptions. The Chiefs were also able to keep drives alive with the ground attack. Hunt ran for 91 yards, finding the endzone twice.
Baker Mayfield continued to take some steps towards the right direction. Mayfield tossed two touchdowns to Duke Johnson, who found the endzone for the first time all season. Mayfield finished with 297 yards, completing 29 of 42 passes, with one interception. Mayfield took a shot to the head during the late third quarter, and was evaluated for a concussion. Mayfield was backpedaling while being wrapped up by Chris Jones, when he was struck in the helmet by Chiefs defensive back Ron Parker, who was not penalized for the hit. "I think the rule is if they see me messing with my helmet, they are going to take precaution," said Mayfield following the blow to the head.
The Browns will look to get back to their winning ways next Sunday, November 11th, as they will square off against the Atlanta Falcons. Kickoff is set for 1:00 pm at FirstEnergy Stadium.