(Tangipahoa, LA) - Former NFL wide receiver Michael Jackson is dead after a motorcycle accident Friday morning in his hometown in Louisiana.
State Police say the 48-year-old crashed into a car that was backing out of a parking space while the motorcycle was traveling at a high rate of speed. The incident happened in Tangipahoa, Louisiana around 1 a.m.
Jackson played eight seasons with the Cleveland Browns and Baltimore Ravens after being drafted in the sixth round in 1991. He served as Mayor of Tangipahoa from 2009 to 2013 after retiring from the NFL.
(Photo by Getty Images)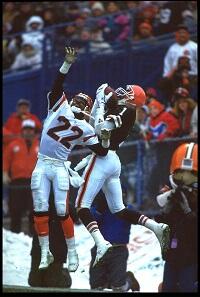 © 2017 iHeartMedia, Inc. and Metro Networks, Inc.